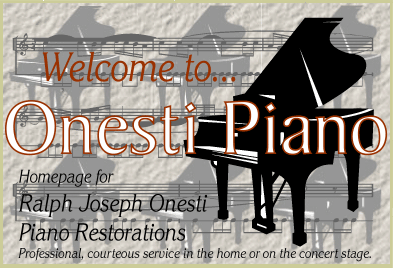 Ralph J. Onesti, RPT
Registered Piano Technician
1317 MacDade Blvd., Woodlyn, PA 19094 610.833.1657
email: inquiry@onestipiano.com
The piano is the king of all musical instruments and provides us with a unique pleasure, whether we are the listener or the pianist. The piano has the ability to add a special element to our lives, individually and as a family. Piano music can evoke memories of the past, exhilaration in the present or the joy of holidays.
A basic level of understanding is key to greater enjoyment. Since it is our intention to enhance that enjoyment, the majority of this site was created using terms everyone can understand rather than technological jargon.
Features that will enhance your visit - please adjust your audio as needed and enjoy an example of Ralph's adept skills and proficiency in piano tuning and voicing, as provided for this recording (nice music to read by), enabling graphics will allow you to visit the Gallery and

denotes something important. The pianist and several other local artists can be viewed by following this link.
We sincerely hope your time with us is informative, enjoyable and that you'll come back often. In fact, before you make yourself at home, please take a moment to bookmark or save our home page in your browser favorites now.
If you need contact information immediately, please click here.

---
Whatever your piano needs, we feel you can become quite an educated consumer as you spend some very beneficial time with us.
You may click here for a Personal Message from Ralph.
Novice to professional pianist, student or teacher, no matter what your skill level or background, our aim is to provide our guests with valuable, timely and essential information. Your host, Ralph J. Onesti, owner of Ralph Joseph Onesti Piano Restorations, has spent four-plus decades servicing and restoring instruments at every level. On the pages that follow, you have the benefit of that experience. From the home to the concert stage, we have enjoyed a reputation for excellent service in the Delaware Valley region. Appraisals are provided quickly for sale or purchase, and market value, or for a more crucial insurance situation involving damages. Our facility is globally recognized as a result of Ralph's personal commitment and reputation for producing exquisitely restored instruments. Restorations produced here, either Steinway, Mason & Hamlin, Knabe or other fine model grand, can be found in homes, studios, institutions, and on the concert stage.


At your leisure, you may view examples of his work by clicking fully restored instruments offered for sale or Gallery links.

As a piano owner or owner-to-be, you've found a valuable resource for tips on maintenance and preserving your investment, guidelines for purchasing, and plain talk about what you should expect from, and how to communicate your needs to, your piano service technician. If you choose, you can view our personal picks and favorites in the industry for manufacturers, and for piano movers, retailers, etc. from our clients.

An aging piano may be progressively uncomfortable to play and lack the original tone. If voicing and regulation is not an option, it may be time to consider whether to restore or sell. This is not always an easy decision and one whose difficulty can be compounded with information received by way of the web, retail piano sales personnel or the rebuilding community.

You need to feel comfortable and confident in whatever decision you make.

Thank you for visiting...please come back often.

---

Copyright © 2002-2018 Ralph Joseph Onesti Piano Restorations All rights reserved.
Site Design by Gretchen Raichle
Contact Information Site Information
Music: Simple Gifts, partial cut from the CD Simple Gifts; pianist Terry Klinefelter, Piano Technician, Ralph J. Onesti

GO TO TOP